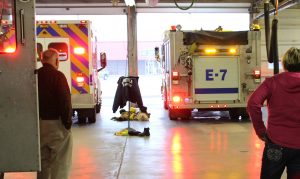 It's not only members of the military that can suffer from post-traumatic stress disorder (PTSD). Firefighters and emergency medical personnel who work with traumatic scenes on a regular basis can be susceptible to the struggles associated with the disorder. According to a survey by CareerCast, a firefighter is the 2nd most stressful job behind an Infantry Soldier.
That's one reason the "Surviving Emotional Trauma, Creative Tools for Emotional Survival and Resiliency for First Responders" training will be at the Scottsbluff Fire Hall May 9 at 6:00 pm and at the North Platte Fire Hall May 10 at 1:00 pm.
"Anyone who works as a first responder whether they're in a volunteer or paid position is invited to the training. Even if they aren't feeling stress from trauma they have witnessed, they may learn something they could share with a co-worker or friend or they may learn tips to preventing PTSD," said Fred Wiebelhaus, Field Adjuster Supervisor with the League Association of Risk Management (LARM) who is sponsoring the event.
Wiebelhaus said there is no charge for the training although those who plan on attending can register by emailing fred.wiebelhaus@larmpool.org or calling 402-440-9129.