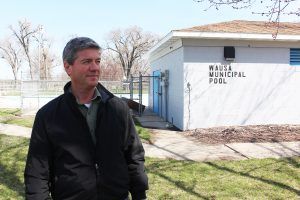 The Village of Wausa is looking for input from its citizens on what to do with the town's aging pool.
Bill Schumacher, Village Board Chairman and long time resident of Wausa, said an anonymous estate gift to the village has made it possible to add air conditioning and replace windows in the city auditorium. Village leaders are now looking to use some of those funds to help pay for either a renovation of the existing pool or to purchase a new pool.
"It's estimated the existing pool was built 56 years ago. The main pool shell isn't structurally sound and the bathhouse doesn't meet the current ADA regulations for accessibility so we are looking at improving the facility," Schumacher said.
Village citizens are being asked to weigh in on four different options: renovation of the existing pool with estimated costs of $200,000 to $250,000; renovation of the existing pool and bathhouse with estimated costs of $400,000 to $500,000; new bathhouse and renovation of pool for zero entry eliminating the wading pool at an estimated cost of $800,000 to $950,000; or a new bathhouse and pool for an estimated cost of $1,300,000.
Questions on the survey that will be distributed to citizens in May ask if the Village Board should spend $700,000 of the donated estate funds for the swimming pool and, if not, what other community project would citizens rather pursue. The survey also is asking for fundraising ideas for the swimming pool project. For more information about the survey, contact the Village of Wausa office at 402-586-2345.