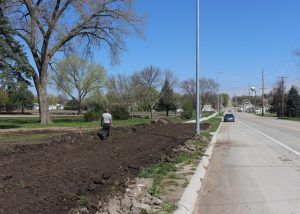 "The wood dugouts and bleachers at the ball fields were falling apart so two years ago we held fundraisers and received grants to fund two new softball fields and a baseball field. The kids were able to play on them last year," said Gerri Swanson, City of Genoa Administrator and Clerk.
The City of Genoa then applied for and received a grant to fund a trail extension that will loop around the ball fields. The City was awarded $184,694 or 80% of the $216,591 project from a Nebraska Game and Parks Recreational Trails Grant which is funded by the Federal Highway Administration.
The 32 acre park located in the south part of Genoa now includes three lighted ball diamonds, a heated swimming pool, several park shelters and camping facilities with electrical hookups. When completed this summer, the new trail loop will be almost a mile long around the park.
"The trail allows the kids to go to the pool and ball practice without going on the highway. It's a safety issue. With its close proximity to the hospital and the assisted living facility there are walkers that will be able to use the trail too. We've got quite a bit going on," Swanson said.
For more information about the Genoa trail and park areas, contact the City office at 402-993-2330 or go to http://ci.genoa.ne.us/.