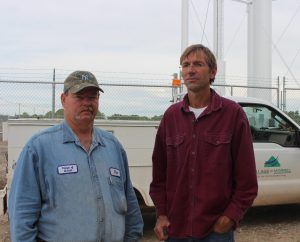 Many Nebraska communities are finding that their up-to-100-year-old water mains are showing wear. Village of Morrill Water Superintendent Tim Cleays said he once dug up pipe made of tongue and groove boards wrapped with wire. Old deteriorating cast iron pipe was the cause of water main breaks in Morrill this past spring. New water main is scheduled to be installed this summer in one of the original sections of Morrill. It will be a ½ inch thick 6 inch plastic pipe that won't deteriorate like other types of conduit.
The village has 60 miles of water line within the town and gets its supply of water from a regional Ogallala Aquifer wellfield 11 miles away. The new water main pipe installation is expected to be completed this summer.
Dave Bos, League Association of Risk Management (LARM) Loss Control Manager, said it's important to regularly monitor water main systems and, like Morrill, to replace sections when needed.
"Keeping your water mains repaired and replacing pipe can be costly. In terms of public safety, communities like Morrill know that the cost is worth it as water security is always a top priority," Bos said.
The Village of Morrill has been a member of LARM since 2015. Pictured in photo is Cleays and Matt Groskopf, Village of Morrill Water Operator. The pipe is a deteriorated portion found in Morrill by plant staff.