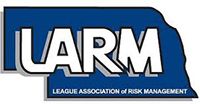 To: LARM Board Members and LARM Members 
From: Michael Nolan 
Re: LARM Board Meeting materials
Date: November 23, 2018
The meeting of the Board of Directors of the League Association of Risk Management will be held on November 29th, 2018 at 3:00 pm (CDT) via conference call.

Board members are scheduled to be at the following locations subject to change: Gering City Administration Bldg., 1025 P St., Gering NE; Valentine Public Library meeting room, 324 N Main, Valentine NE; Auburn Board of Public Works office, 1600 O St., Auburn NE; Village of Hoskins office, 101 S Main St., Hoskins NE; St. Paul Utilities Superintendents office, 704 6th St., St. Paul NE; Village of Pilger office, 220 N Main St., Pilger NE; City of Pierce office, 106 S 1st St., Pierce NE and League of Nebraska Municipalities office, 1335 L Street, Lincoln NE.  

For a copy of the agenda, or to participate by phone, please contact Tracy Juranek at 402-742-2600 or by email: tracy.juranek@larmpool.org. Conference call phone number is (712)451-0686 Access Code: 320942#.

Below is the link to the November 29, 2018 Board meeting agenda and any supporting materials.