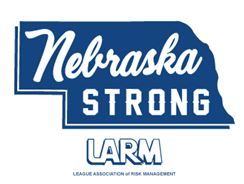 You're invited to a free Learn with LARM Risk Management Seminar to be held at the Younes Conference Center in Kearney, Nebraska on June 25, 2019 from 9:00 am to 3:30 pm.
Topics include:
Our Changing Nebraska Weather:  Kim Roberts will discuss extreme weather events are becoming the new normal in a warming climate. This session will examine recent weather trends in Nebraska, including impacts on frequency and severity for communities.
Employment Practices:   Jerry Pigsley will cover the latest legal and legislative changes, agency enforcement initiatives, employment-law trends, and hot-topic court decisions.
Property Clean up:    Clint Schukei  will discuss effective methods for property clean up.
Managing Workers' Comp:   David Dudley will present his session on how employers can lower their workers' compensation costs.
LARM members and non-members are welcome.
This information will be useful for anyone who is interested in municipal safety and risk management: elected officials, city managers/administrators, city clerks, office staff, maintenance staff, law enforcement, fire departments.
Free safety vest for each community that participates!  Lunch provided.
Register early – Space is limited!