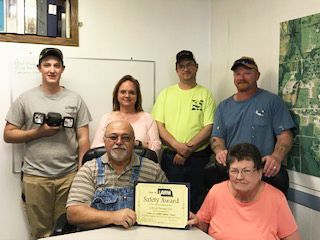 The City of Pawnee City applied for and was awarded $500 for gloves, boots, security lights, and signs from the League Association of Risk Management (LARM) as part of its Lean on LARM Safety Grant program.
LARM is an insurance pool made up of 168 government entities across Nebraska. Over 60 members have received safety grant awards in the last year. For more information go to www.larmpool.org.
Pictured:   Front row, left to right: Council member Ric Helms and Mayor Deb Klein.  Back row left to right: Crew member Spencer Cumley, Deputy City Clerk, Kellie Wiers, City Foreman Clint Johnson and crew member Sean McAhon.