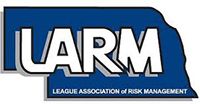 Click here for the notice, agenda and related materials for the Annual "Members Meeting" of the League Association of Risk Management (LARM) on Wednesday, Sept. 18, 2019, at 10:15 am CT in Room BC at the Cornhusker Marriott Hotel, 333 S 13th Street in Lincoln.
If you choose to print the packets, the blank pages allow for double-sided printing.
Thank you for taking time from your busy schedules to attend.
L. Lynn Rex
Ex-Officio, Non-Voting, Board Member and "Administrator" of LARM
Executive Director of the League of Nebraska Municipalities
1335 L Street
Lincoln, NE 68508
Phone: 402-476-2829
Fax: 402-476-7052