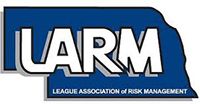 Click here for the notice, agenda and related materials for the Special Meeting of the LARM Board of Directors by telephone conference call scheduled for Friday, Oct. 11, 2019, at 2:30 pm CT/1:30 pm MT. If you choose to print the packet, the blank pages allow for double-sided printing.
Thank you for taking time from your busy schedules to participate.
Hickman Mayor Doug Hanson, Chair of the LARM Board
North Platte City Administrator Jim Hawks, Vice Chair of the LARM Board
For more information contact customerservice@larmpool.org.