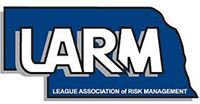 NOTICE
MEETING OF THE BOARD OF DIRECTORS
OF THE LEAGUE ASSOCIATION OF RISK MANAGEMENT (LARM)
 Tuesday, March 1, 2022, 1:30 p.m. CT/12:30 p.m. MT
PLEASE TAKE NOTICE that on Tuesday, March 1, 2022, at 1:30 p.m. CT/12:30 p.m. MT, the League Association of Risk Management (LARM), will hold a LARM Board of Directors meeting at the Cornhusker Marriott Hotel, Grand Ballroom, B and C, 333 South 13th Street, Lincoln, Nebraska. An agenda of subjects known at this time is included with this notice (see below), and the agenda shall be kept continually current and readily available for public inspection at the principal office of LARM during normal business hours at 1335 L Street, Lincoln, Nebraska. A notice of this meeting with the agenda and other materials are available at this location with a copy of the Open Meetings Act posted. The meeting will also be made available by Zoom via Computer, Smart Device or Telephone at https://us06web.zoom.us/j/88050973997?pwd=RTFlNUw1eUQyM29LV3FLd3BsVDhPZz09 or via phone at 346-248-7799. The Meeting ID is 880 5097 3997 and the passcode is 615182.