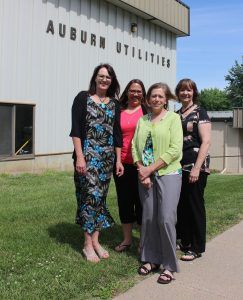 Water and electricity are on Dave Hunter's mind every day as he evaluates ways to make the delivery of it to thousands of customers more efficient in the coming months and years.
"You have to be proactive because change can come quickly," Hunter said.
Hunter is the General Manager of the Auburn Board of Public Works (BPW) and supervises an operation that includes Auburn's water division and wastewater division. The BPW staff also operates the nearby Village of Nemaha water and wastewater plants and assists the towns of Peru and Brownville with their water and wastewater systems. The BPW power plant provides electricity for farms and communities within 20 miles of Auburn including Brownville, Nemaha and Johnson.
"It takes a lot of manpower and technical knowledge to operate the wells, lagoons, pumps, and computer equipment that's involved in municipal utility systems. It's hard for small communities to hire and keep licensed water and wastewater operators so it works for us to provide this service for these towns," Hunter said.
Thinking ahead has meant investing in Auburn infrastructure so it's up to the task. In 2009, a new $5 million wastewater treatment plant was built in Auburn to replace a facility originally built in 1965. A $6 million water plant was built in 2010 to replace a facility dating back to 1941. The BPW had some help.
When federal stimulus funds became available in 2010, the Auburn BPW was ready. Studies on the community's water and sewer needs had already been completed and confirmed that Auburn needed a unique water facility to process water that requires a higher level of treatment than most towns. All of the town's 13 wells are less than 50 feet deep and use surface water rather than the Ogallala aquifer or the water from the Missouri or Platte Rivers that much of Nebraska communities use. The paper work was in place when it came to apply for the grants resulting in $2 million of federal stimulus funds towards the city's fully automated water plant.
Hunter said the key to being proactive is to keep learning and improving whether it would be new water or wastewater processes, improved safety practices or making forms more easily accessible to customers.
A recent proactive move made by the Board was to purchase a $15,000 sewer camera to inspect the town's sewer pipes. Workers also routinely jet or clean the pipes.
The BPW has monthly safety committee meetings that employees and board members attend to understand safety issues from working in the field to budgeting for safety items. The Auburn BPW is also a member of the League Association of Risk Management (LARM) – an insurance pool for government entities in Nebraska.
Hunter said as the rules and regulations get tougher and technology advances, larger communities are going to have to reach out to smaller communities so they can keep up.
"Maintenance and updating equipment takes time and money but it pays for itself in longer lasting equipment and provides evidence to the community and regulating agencies that we're doing all we can to provide the safe and efficient delivery of utilities to our customers," Hunter said.