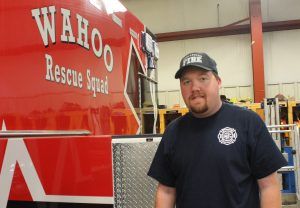 As more members of volunteer fire departments work at jobs located a distance away from their home towns, it can be a challenge for them to respond in a timely manner to emergency calls. The City of Wahoo has hired Grant Anderson as their first full-time emergency medical technician (EMT) to fill the gap of time until a full crew can arrive at a rescue call.
Besides responding to the calls that come in from the 71 square miles that Wahoo covers, Anderson also supervises the 42 EMT volunteers of the Wahoo Rescue Squad. The rescue squad responds to an average of 500 calls for assistance per year plus 200 more transfer requests from nursing homes to area hospitals.
"I ensure that our rescue squad members follow all required standards and policies so that we can provide the necessary advanced level of care. The City of Wahoo has recognized the importance of providing quality medical services for their citizens," Anderson said.
The City of Wahoo has been a member of the League Association of Risk Management (LARM) since 2004. Anderson is pictured with the 2016 four-wheel-drive rescue unit recently purchased by the City of Wahoo.