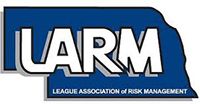 To: LARM Board Members and Municipalities
From: Michael Nolan
Re: Notice of LARM Board Meeting
Date: June 5, 2018
The meeting of the Board of Directors of the League Association of Risk Management will be held on June 8th, 2018 at 10:00 am (CDT) by telephone conference.
Board members are scheduled to be at the following locations subject to change: SID #1 Stanton County Office, 99 Market Place, Norfolk NE; Gering City Administration Bldg., 1025 P St., Gering NE; Auburn Board of Public Works office, 1600 O St., Auburn NE; Village of Hoskins office, 101 S Main St., Hoskins NE; St. Paul Utilities Superintendents office, 704 6th St., St. Paul NE; LARM Office 1919 S 40th Street Ste. 212 Lincoln NE; Village of Pilger office, 220 N Main St., Pilger NE; City of Pierce office, 106 S 1st St., Pierce NE and League of Nebraska Municipalities office, 1335 L Street, Lincoln NE.
For a copy of the agenda, or to participate by phone, please contact Elizabeth Becker at 402-742-2601 or by email: Elizabeth.becker@larmpool.org