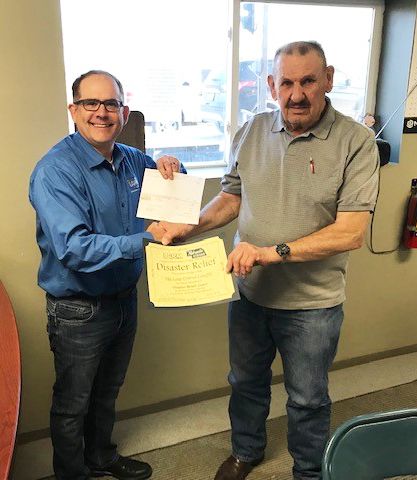 The Loup Central Landfill received a $500 Disaster Relief check from the League Association of Risk Management (LARM) at its recent Board of Directors meeting. Jeff Selden, manager of the landfill, had applied for the funds to help pay for the extra rock that needed to be purchased to repair roads damaged  by the March 12-14 epic storm that hit much of Nebraska.
"We've taken in a lot of flood related trash so we were glad to be able to obtain funds to help keep up the roadway for our customers," Selden said.
The Disaster Relief Funds were approved by the LARM Board of Directors in late March. Twenty-seven LARM members have since received the funds to help pay for storm related items such as sump pumps, generators and other equipment.
Pictured from the left is Clint Simmons, agent for LARM and Wilfred Fredrick, Chair of the Loup Central Landfill Board of Directors.