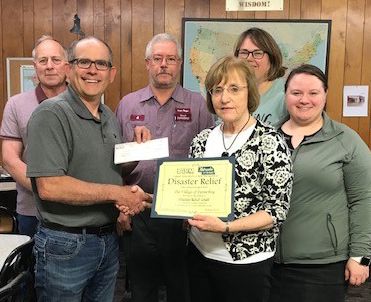 The Village of Dannebrog recently received a $500 Disaster Relief check from the League Association of Risk Management (LARM) at its Village board meeting. Misty Garcia,Village Clerk, had applied for the funds to help pay for the extra trash removal expenses needed after the March 12-14 epic storm that hit much of Nebraska.
The Disaster Relief Funds were approved by the LARM Board of Directors in late March. Twenty-eight LARM members have since received the funds to help pay for storm related items such as sump pumps, generators and other equipment.
Pictured from the left are: Board member Bob Carroll; LARM Agent Clint Simmons; Board member Albert Clark; Board Chair Carol Schroeder; and Board members Angela Berger and Chelsea Larson.