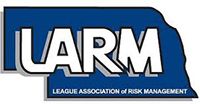 League Association of Risk Management (LARM) members will be getting a 10% increase in property rate premiums for 2019-2020 following a meeting of the LARM Board last week. Embry Nichols, an insurance specialist with Guy Carpenter and Company, told the Board that the rates could actually have come in higher.
Link to 6-27-2019 Board Meeting Draft Minutes
Link to 6-27-2019 Board Meeting Audio

"Two major markets who wrote billions of coverage for public entities in the past have largely exited the market which turned the market upside down. We knew that it would be a hard market because of the extensive losses from floods, fires and hurricanes the insurance market has taken the last few years. Weather patterns are driving the property insurance rates across the country," Nichols said.

Mike Nolan, LARM Executive Director, reiterated it was a hard insurance market and though LARM had not had to cover many claims for this spring's flooding across Nebraska, national reinsurers that LARM depends on for back-up coverage have had to drastically raise their rates. He said two thirds of LARM's claims are from wind and hail issues and do not have much to do with flooding.

Mark Nestor, an insurance advisor with ICRMS told the Board, "While the premium and retention increases may appear substantial, they are moderate as to other property reinsurance increases that ICRMS has first-hand knowledge with other pooling clients for their 7/1/2019 renewals." He noted increases of up to 50% for a government entity in Colorado.

The LARM Board also approved a retention rate of $300,000 up from $200,000 for the 2018-2019 fiscal year. Nichols said that most reinsurers now impose a $500,000 per occurrence retention.

Nichols said the good news was that the boiler/machinery premium rate decreased by 20%.

Nolan said there was still a lot of storm exposure time from now until October 1 which could affect rates for 2020/2021.

"LARM has a very healthy surplus so we're able to take on the risk of higher retentions. This is an art and not a science. LARM hasn't had a major event in five years so we may be due one," Nolan said.

LARM Board members include Beth Bonderson, Hoskins; Lane Danielzuk, Gering; David Hunter, Auburn BPW; Shannon Stuchlik, NENEDD; and Andrew Ward, Valentine.