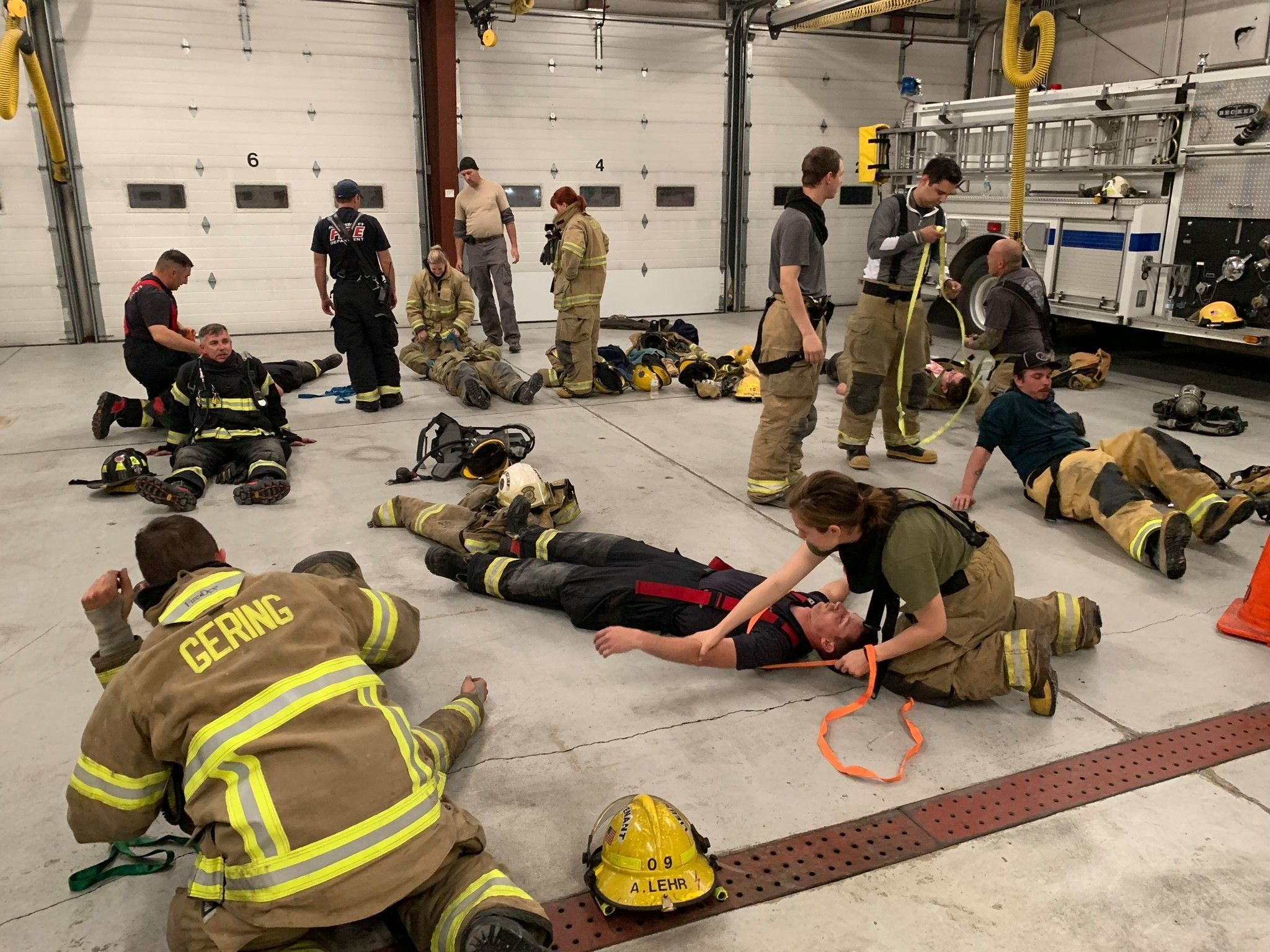 The City of Gering Fire Department encourages youth to volunteer their services in the community through the Cadet Firefighter Program held each year for 12th grade Gering students.
It's an intense program, set up in 2017 for teens who are committed to regularly attend firefighter and rescue trainings and meetings, pass firefighter competencies and then respond to emergencies. There is a capacity of 12 participants in the program although with COVID restrictions this year, there are currently six cadets.
"The Firefighter Cadet program educates our youth on the importance of fire service, critical EMS skills, firefighting skills and overall emergency response. After learning various skills, Cadets are able to respond to emergencies under a firefighter's direct supervision," said City of Gering Fire Chief Nathan Flowers. Flowers is the only paid member of the 38-member volunteer fire department in Gering. He said many of the current volunteer responders were Firefighter Cadets when they were in high school.
Once they are approved for the program Firefighter Cadets are given a program task book to work through that lists various fire service skills and standards protocol. Each section of the book must be signed by a supervising firefighter who attests to the Cadet's competence in each of 40 skills within the areas of Fire Department Communications; Fire Ground Operations; Emergency Medical Operations; Emergency Vehicle Operations;  and Leadership.
The training program follows policy and procedures of the Gering Fire Department, the Firefighter 1 certification through the Nebraska State Fire Marshal Training Division, and Emergency Medical Technician (EMT) training through the National Registry of EMTs and the Nebraska Department of Health and Human Services.
The Cadets must also receive CPR and First Aid certification and know how to operate an automatic external defibrillator (AED).
Each Cadet receives one-on-one training in basic rescue operation skills such as operating a radio, using personal protection equipment, providing medical documentation, using the nozzles, hose and hydrants and even how to tie various knots. They pass the program only after proving they are competent in the main components of fire and rescue and can respond with the correct information when being tested in a personal interview with Flowers.
"Volunteerism, as a whole, has been on a decline. After 9-11, it went up and then it dropped off as people just don't have the time anymore for volunteering. This program teaches the importance of giving back to the community through volunteer work even if the teen ends up volunteering with some other group in the community rather than the fire department," Flowers said.
The program helps develop future leaders as an integral part of the program is set up so that the Cadet see the benefits of integrity, honesty, leadership and service to the community.
"We provide them with opportunities to lead action reviews in front of the entire group. They learn firefighting and rescue skills while also learning to be leaders in the community. We've had Cadets go into the medical field, paramedic school and nursing school," Flowers said.
The League Association of Risk Management (LARM), a risk management pool for government entities in Nebraska, was instrumental in helping the City of Gering start the Fire Cadet program.
"LARM was a champion for us in setting up the Cadet Program. There was liability to consider and we wanted to make sure we had our bases covered," Flowers said.
LARM Loss Control Manager Dave Bos agreed that teaching young people to volunteer is a valuable life skill for them and a great benefit for the community.
"We are all about risk management and teaching these kids how to contribute to the well-being of their communities is good for the whole state," Bos said.
For more information about the City of Gering Fire Cadet Program visit their Facebook page at https://www.facebook.com/geringfiredepartment/.
Sidebar:
Youth who volunteer in their Nebraska communities are healthier because of their activities. According to the Mayo Clinic, when volunteers serve others, they are also benefiting themselves. Volunteering has been shown to decrease the risk of depression; help people stay physically and mentally active; give a sense of purpose and teach valuable skills; reduce stress levels; help people live longer; and provide opportunities to meet others and develop relationships.
According to Youth Serve America, youth volunteerism improves workplace readiness. Youth who volunteer have 50% less chance to become involved in risky behaviors. Young people who volunteer are likely to give back when they are adults. Research has also shown that high quality service learning leads to academic success in the classroom.
"It is worth the time, effort and funds of city leaders to develop programs that will encourage youth to volunteer in their community. The young people who have a vested interest in park projects or fire training are more likely to volunteer to help with and support city programs when they are adults. They are also more likely to respect city property and have a more safe lifestyle," said Dave Bos, LARM Loss Control Manager.