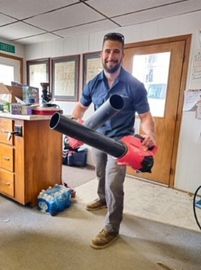 The City of Pawnee City utilized a $500 Lean on LARM Safety Grant to purchase leaf blowers and industrial flashlights for the city. According to Kelly Wiers, Deputy City Clerk, the blowers are used year around for clearing sidewalks of debris and snow.
The League Association of Risk Management (LARM) provides the Safety Grant for Nebraska governmental entities that receive coverages and risk management services from LARM.
Pictured is City of Pawnee City crew member Lucas Barloon.